FlexSim 2018 Update 1: Database Connectivity + More

FlexSim 2018 Update 1 has been released and is now available worldwide. This latest update to FlexSim's flagship 3D simulation package brings improved database connectivity, new objects, box plot charts, and much more.
FlexSim now has a Database Connector tool. This feature makes it easy to connect to a database and import or export data. The Database Connector can handle a number of database types, including Microsoft SQL Server, MySQL, Oracle, PostgreSQL, and others. The tool comes with a simple, easy-to-use interface and a strong Database FlexScript API.
Looking for a better waiting line? The new Waiting Line object can help. This people-based object includes powerful options to customize the look and behavior of the line. Does the real-world waiting line that you're emulating have stanchions? What happens if a person is tired of waiting and leaves the line? Use the Waiting Line and its new Wait In Line activity (in Process Flow) to make these scenarios happen in your simulation model.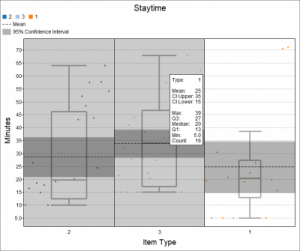 FlexSim now has a Box Plot chart type, available in the Dashboard library. Pair it with our Statistics Collector tool to add another dimension to any simulation analysis. There are also improvements to Gantt charts, most notably the option to reverse rows on the chart so recent data will appear on top.
The A* Module continues to receive more updates and improvements. In FlexSim 2018 Update 1, this means the addition of a Behavior tab in the A* Navigator's properties window. It contains the latest features:
A routing mode for traveler members to travel only at right angles, instead of in diagonal paths.
An option to have traveler members stop for turns, and also the ability to specify how fast they turn and any delay times before they turn.
An option to Route By Travel Time, where the routing calculations include turn times and waiting for other traveler members.
FlexSim 2018 Update 1 also includes support for Emulation, a new Variable Shared Asset in Process Flow, a visual Walls object, and date/time localization, plus much more.
Download FlexSim today from the "Downloads" section of your FlexSim Account.
Happy Simulating!