Manufacturing Simulation
It allows organizations in the manufacturing industry to analyze and experiment with their processes in a virtual environment, reducing the time and cost requirements associated with physical testing.
What is manufacturing simulation?
It's the computer-based modeling of a real production system. Inventory, assembly, transportation and production can all be considered within a simulation model, resulting in decisions that can maintain or improve efficiency at the lowest possible cost.

What is FlexSim?
FlexSim is a powerful yet easy-to-use software package for simulation modeling. A fast and accurate simulation engine is hidden behind drag and drop controls, drop-down lists, and many other intuitive features that make it accessible for anyone to build a model. All simulation models are created to scale and are presented using 3D visuals, so it becomes easy to view and recognize bottlenecks in the production line or other deficiencies within the system. FlexSim also gives decision makers the data to confirm their observations, with impressive data reporting and analysis built right into the software.
Why simulate manufacturing?
The need for efficiency in the manufacturing industry has never been greater, with material, transportation and labor costs continuing to rise each year. Successful companies need to ensure that the costs associated with time, equipment and other investments are being considered and optimized. At its core, manufacturing simulation is an inexpensive, risk-free way to test anything from simple revisions to complete redesigns, always with the purpose of meeting production goals at the lowest possible cost. Simulation also provides a way to test and implement principles of Lean manufacturing and Six Sigma. And unlike spreadsheet-based analysis and forecasting, manufacturing simulation offers a quick and efficient method to adjust parameters and get faster results.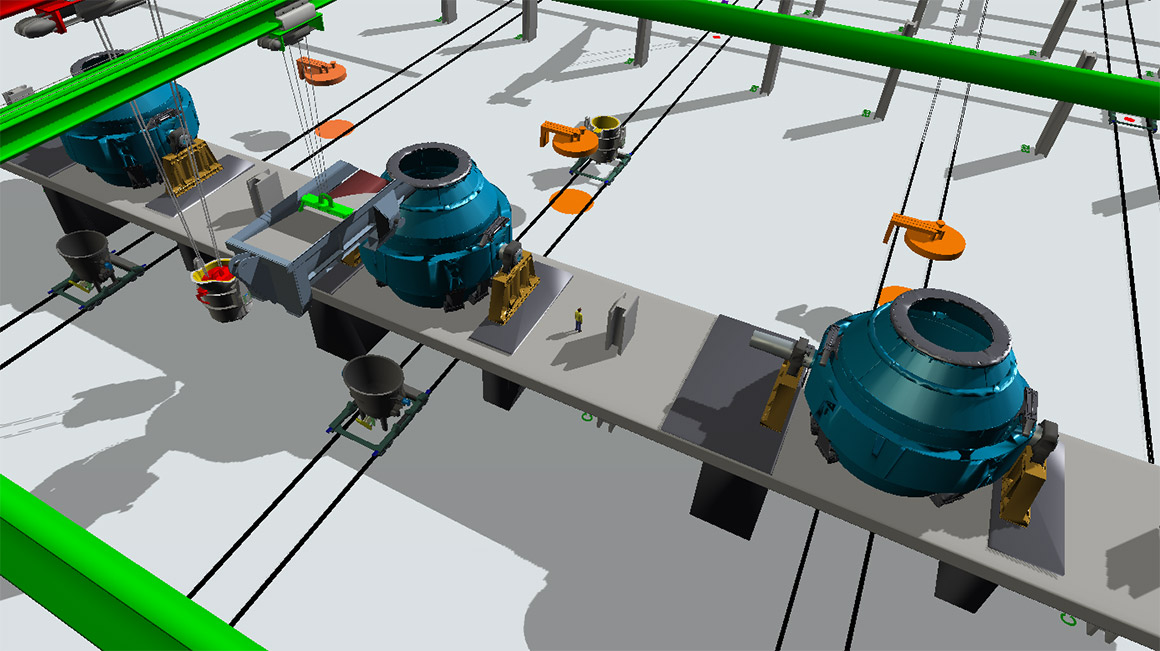 Why simulate with FlexSim?
Answer important questions – Manufacturing simulation with FlexSim can answer important questions that decision makers face every day. Just a few examples:
Would adding equipment in the manufacturing plant increase throughput or create an unforeseen bottleneck?
Can we add a new product line and still meet production goals?
Can we identify and minimize the causes of defects?
Full 3D simulation – What do 3D visuals really add to a simulation model? How about an immersive experience that helps you and your colleagues truly understand what's going on! FlexSim brings a visual experience to simulation modeling, providing rich 3D objects and enhanced realism. 3D simulation modeling brings the model to life, and aids in communication and discourse for staff members at all levels.
Easy to use, yet powerful – FlexSim contains user-friendly tools like drop-down menus and drag and drop functionality that allow beginners to build and test models in just minutes, with no background in computer coding. And our newest logic-building feature makes it easier when things start to get complex. Simply map out the process using activities in this powerful flowcharting tool—no need for coding.
Consider every viewpoint – FlexSim has the flexibility to look at every angle of your manufacturing process. Did you encounter an unforeseen variable during product development? Has a customer concern created the need for an immediate solution? Simulation models can easily be tweaked and adjusted, providing rapid responses to even the most abstract situations.
No project is too big – FlexSim is capable of handling any sized project, no matter the scope or complexity. Do bottlenecks in an existing system need to be identified and eliminated? Does the plant layout need to be optimized? What about future growth? Project components such as factory flow, inventory control, and optimal staffing can all be considered within a FlexSim model.
Competitively priced and cost effective – With a variety of license types and a comprehensive support network, FlexSim provides industry-leading value to its customers. Our 3D simulation software is competitively priced and doesn't come with any hidden costs or add-ons, so even the most basic license comes packaged with powerful features such as the experimentation engine and the ExpertFit® distribution-fitting software.
Ready to try simulation?
Try FlexSim free today and see how it can help improve your manufacturing operations!