How student teams gained valuable experience by helping a major outpatient clinic better serve patients
Not too long ago, we had the privilege of congratulating and speaking with a trio of students from Louisiana State University. Their "Geaux FlexSim" team are past winners of the SHS/FlexSim student competition. More on that in a minute.
Since 2013, FlexSim has partnered with the Society of Health Systems (SHS) to hold a healthcare simulation competition for university teams. This competition is unique because the student teams act as consultants — they model an environment, find their own solutions to the problem, and then the finalist teams present those solutions to a panel of judges. It's also unique because these problems are far from solved already.
"We always use real world problems, not example problems," said Lou Keller, lead organizer for the competition. "The project isn't finished and the organization is actively looking for solutions."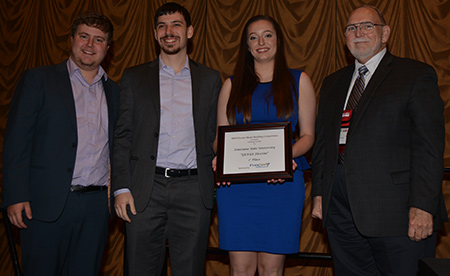 When the "Geaux FlexSim" team competed, the living case study was volunteered by the HSE team at UAB's Kirklin Clinic. The Kirklin Clinic is one of the busiest outpatient centers in the United States, serving more than 2,000 patients each day in a facility with 257 exam rooms. Due to increased demand for pulmonary services, their Pulmonary Clinic has tentatively decided to increase its staff size; before this happens, though, administration would like to know more about the clinic's current capacity and future needs.
There were seventeen teams (representing five countries) that signed up for the chance to tackle this multifaceted design and staffing problem. Louisiana State University (LSU), along with the teams from West Virginia University and Mississippi State University, traveled to the Health Systems Process Improvement Conference in Houston, Texas for the finalists' presentations. And the winner was… well, that surprise has already been spoiled.
The LSU team left Houston with the victory, $2,500, and a free trip to the conference. (The other finalists didn't leave empty-handed — second place West Virginia received $1,500, while third place Mississippi State received $1,000.) They also gained a wealth of experience that would be hard to come by elsewhere.
Valuable experience for the future
How about a crash course in improvement and problem solving through simulation?
It certainly wasn't easy, as these students had to learn a new piece of software, develop their solution, and do it all while juggling their normal university schedule. Team member Justin Neilson brought prior experience in modeling competitions, participating in last year's SHS/FlexSim competition as well as the IISE Annual competition, and this proved useful in getting the group up to speed.
"By the end we felt like pros," said Dana Scalf, another team member. "It definitely expanded our teamwork."
Dr. Hyun Woo Jeon, the academic advisor for the LSU team, views simulation as a valuable workplace skill. He noted that while academia generally prefers analytical methods to problem solving, many real world problems are not easily solved in this way.
"Simulation methods at least can provide a solution to problems that are not easily solved by analytical approaches," Dr. Jeon said.
The students he advised learned this firsthand, and the team members felt that FlexSim HC was a great choice for the competition. They enjoyed the visuals, but they also appreciated the amount of detail that they could add (or not add) to their model.
"It was so well designed for that type of process," Justin explained, referring to FlexSim HC's capability of modeling healthcare systems.
Dana added, "We have learned an amazing software that can really set us above and beyond the competition."
Another area for team growth was simply learning about healthcare, or even how to approach a healthcare model. Most industrial engineering courses around the world focus on the manufacturing side of things, so students are generally unfamiliar with healthcare. According to Justin, they couldn't just walk down the street and observe a hospital's process. But they certainly recognized some of the aspects that make healthcare systems different.
"The product in manufacturing doesn't require as much care or quality of service as the patient does," Justin said. "Human processes are different because waste is far more unacceptable."
"Students need to be exposed to various types of problems in different domains," Dr. Jeon explained. "This experience will benefit students by giving them opportunities to work with real healthcare data, since manufacturing and service data is more frequently assumed in IE courses."
The best part of the competition is to see students grow up as experienced engineers and presenters.
To prepare for the finale in Houston, the team took advantage of the opportunity to present for five of their professors, all of whom have previous experience in industry. This gave them a chance to learn from individuals who know what it takes to present data and results in a compelling and easy-to-follow way. At first, Justin recalls, their delivery didn't hit the mark.
"Our initial practice presentation was data-heavy, and we were told 'think of your audience, you want to sell your results,'" Justin recalled. "By the end we were doing a better job of giving our recommendation, background information, and why you should trust our results — looking at a series of solutions, where not all of them work so well."
The final product obviously made an impact on the judges. According to Lou, the trio of final presentations showed a high level of professionalism indicative of students that are doing right things in the right way. Not to mention that the results were exciting.
"They did statistical evaluations that I wouldn't have believed they were capable of doing," Lou said. "I was impressed with their creativity."
For them [UAB] to be able to use our simulation to enhance a patient's visit or maybe be able to see more patients a day is very rewarding.
"My favorite part of this experience," Dana said, "was getting to travel to a different state with real professionals in this field who were actually interested in what we accomplished as a team. It was awesome presenting to a room full of people who could actually use what we have been working so hard on."
For Justin, the reward was learning how to handle projects. The problem was difficult, he said, but in a good way — the right level of difficultly to bring the team out of their comfort zone. Dr. Jeon noticed this change as he watched his team struggle with the problem and make breakthroughs. He believes that the crucible of competition, an experience they can't easily obtain in the classroom, will help them navigate other types of problems in the future.
"The best part of the competition is to see students grow up as experienced engineers and presenters," he said.
Making a real difference for patients
So how did these solutions fit into UAB's plans? The Kirklin Clinic is making changes to incorporate additional growth in patient volume, and they need to be as efficient as possible in doing so. They're using simulation studies to help determine where the best locations are before designing architectural plans and building the workspace. The competition projects are an important part of this effort, and UAB is currently in the process of incorporating the solutions put forth by each of the three finalists.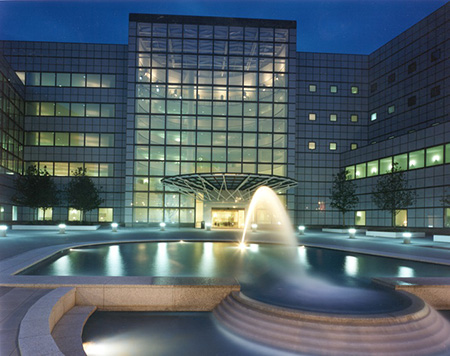 "We're taking the best part of all the different models, and putting them into one model that best represents our environment," said Deborah Flint, Director of Performance Engineering at The Kirklin Clinic.
Several weeks after the competition, the LSU team met with UAB and FlexSim to explain how they arrived at the methodology they came up with. For Justin, it was "fantastic" to know that their suggestions were being used, that some pieces of their solution were helping out. And not just as an improvement project for the clinic — directly helping patients.
"For them [UAB] to be able to use our simulation to enhance a patient's visit or maybe be able to see more patients a day is very rewarding," Dana added.
It's easy to forget that projects like these, improvements to a health system, have such a distinct human impact. These are individuals who are waiting, sometimes for life-saving services, and anything that reduces their stress and anxiety is a benefit. That the students understand and take ownership of this means a lot to UAB, whose mission is the outreach of knowledge and teaching. It means more to Deborah.
"I get really excited to hear that," she said. "To hear that we helped a student learn and feel the reward of their effort is the ultimate win-win situation."