Winners Announced for 4th Lean Simulation Competition in Brazil
Winners Announced for 4th Lean Simulation Competition in Brazil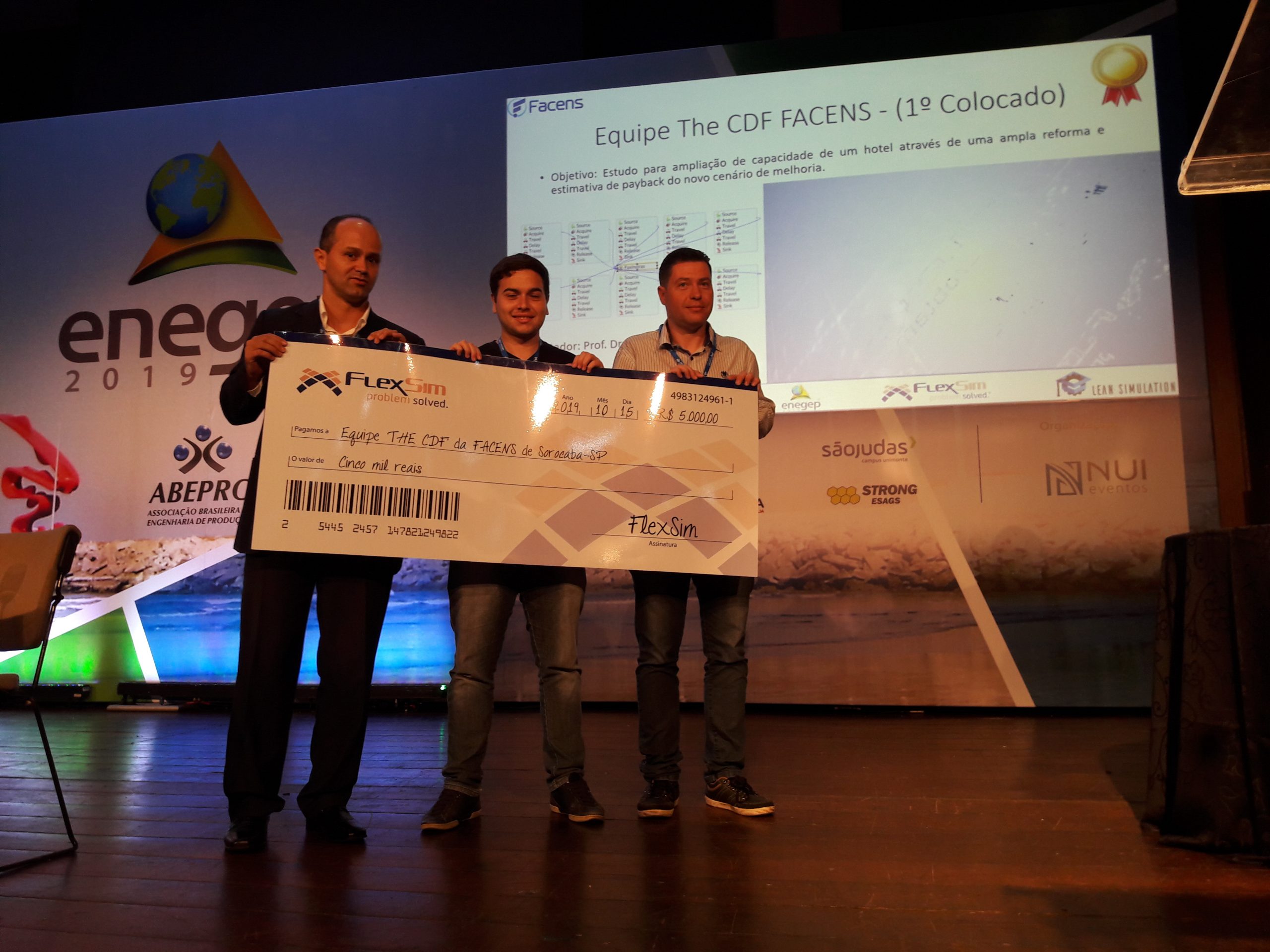 For the fourth straight year, FlexSim Simulation Software sponsored the Lean Simulation Competition in Brazil. In the competition, FlexSim Brasil and Grupo Engenho give students the opportunity to participate in developing different models to approach and solve industrial or service problems. Each year, a similar competition is held where students have the opportunity to use FlexSim, FlexSim Healthcare, and the Lean Board Game (from Grupo Engenho) to face and solve a complex consulting project, problem or planning.
Competing students will develop simulation models, lean projects, or a combination of both (FlexSim and the Lean Board Game). During the competitions, students participate in webinars and online training to enhance their knowledge of different simulation tools. Participants are also issued a FlexSim license for their training and simulations. Teams from this year's competition came from several different states in Brazil, and from both public and private universities.
Participating teams were made up of three undergrad students and allowed an advisory professor to accompany and assist them. Each team competed for the chance to win prize money, licenses, tablets, full FlexSim training, and more.
The models that were submitted were judged by a panel of experts in simulation.
The winning team modeled a real situation in a hotel to understand the capacity, utilization, and sizing of headcount. The second-place team modeled a multi-purpose arena to increase the productivity and sizing of headcount. The third-place team used concepts of Lean and simulation to validate Lean rounds in a manufacturing line.
Though dozens of excellent entries were submitted for this year's case, after several weeks of judging, winners were announced:
2019 First Place: 'The CDF' FACENS – Sorocaba
Team: Felipe Machado Vieira and Caroline de Lelis Camargo
Professor: Rodrigo Gigante
https://www.youtube.com/watch?v=fu4TJMZEGOI
2019 Second Place: Basquei – FHO Simulation
Team: Leonardo Timote and Rafael Antonio Killer
Professor: Lucas Antonio Risso
https://www.youtube.com/watch?v=L0vcvLVpGgo
2019 Third Place: UPF Lean Manufacturing
Team: Cezar Leandro Petri, Conrado Daroit Aversa and Cristian dos Santos Ceccagno
Professor: Anderson Hoose
https://www.youtube.com/watch?v=qigEicAJg9w
Previous years' winners: 
2018 First Place: Equipe USP Simulação 
Team: Gabriel Olivier Cardoso, Rafael Olivier Cardoso and Vitor Becker Vaqueiro
Professor: Livia Martinelli Tinelli
https://www.youtube.com/watch?v=lV_3NKe6iiA
2017 First Place: Equipe USP Simulação
Team: Alex Esteve Ribeiro, Pedro Paulo Paixão Olveira Borges and Rafael Nunes de Campos
Professor: Arthur José Vieira Porto
https://www.youtube.com/watch?v=vLJyV-kWG1g
2016 First Place: Equipe USP Simulação 
Team: Leticia Hatsue Maki, Victor Tamassia Noppeney and Heitor Andrade Porto
Professor: Arthur José Vieira Porto
We congratulate all teams that have participated in the competition. Each team displayed exceptional use of FlexSim´s software and the Lean Board Game from Grupo Engenho. 1st, 2nd and 3rd place teams were awarded during the ENEGEP (Encontro Nacional de Engenharia de Produção) sponsored by ABEPRO, which represents teachers, students, and professionals of Production Engineering and also supports our Lean Simulation Challenge. For more information, visit www.leansimulation.org.