Greenfield facilities may not have a pre-existing infrastructure to update and plan around. Still, they do present unique challenges for project managers. Planners must be meticulous as they manage the project scope and swiftly adapt when things change. And since the building is entirely new, greenfield construction tends to be schedule-centric—an intricate dance with numerous vendors and integrators.
Research has shown that success has little to do with how the project is managed once construction begins—it's all about the planning you do beforehand.1 The best project managers know this, which is why they use best practices and cutting-edge tools to create a comprehensive plan. But what happens when the planning phase inevitably faces a change in scope or other unique challenges? Simulation modeling can help provide data crucial to keeping a project on schedule, centered around a digital model of the build conditions. Project managers can use this model to test various scenarios and find the answers they need for responsive, evidence-based adjustments to the original plan.
Recently, a large parcel vendor broke ground on an airport-adjacent facility. Here is a story about some challenges they faced and a FlexSim simulation model that helped keep everything on schedule.
Part 1: An unloading choke point
In most warehouse spaces, there is a bulk truck loading wing for freight to be loaded onto trucks. This area is a critical entry point for trucks arriving, backing up to a dock door, and unloading equipment during construction. However, the bulk truck loading wing for this facility was de-scoped and removed from the design—creating a situation where there are no dock doors for the trucks to deliver through. There was also no plan to get equipment to the building's second, third, and fourth floors. The end client rejected several workarounds—including leaving the side panels open and leaving a roof hold open for crane access.
The eventual compromise was to install construction lifts in the elevator shaft. These lifts would then transport equipment from the ground floor to the upper levels of the building. However, this also created a significant logistics problem. Since equipment would now arrive on level one and queue up for a lift to the correct floor, the construction lifts' operating limits are a massive constraint on the unloading process.
One of the main questions the systems integrator had to answer was the lift utilization throughout the delivery schedule. Since each lift can top out on either weight or volume, they had to factor in the size, weight, and unloading requirements for all equipment deliveries. Will the current plan lead to a significant bottleneck? Or will the lifts be able to keep up with the incoming trucks?
Part 2: Truck congestion

Since the facility is adjacent to a major U.S. airport, road access can present unique challenges for incoming deliveries. All trucks arriving at the building must pass through a TSA-controlled gate, allowing tug traffic that supplies airplanes with packages. This situation means a limited window of access for trucks to cross the gate and bring equipment into the building. Depending on the time of day, security personnel may restrict gate access, so trucks would have to wait several hours to pass through.
The integrator wanted to know how to sequence the hundreds of deliveries from other vendors. There are many variables: deliveries come at various times, are subject to TSA-controlled gate access, and may also face unloading congestion at the lifts.
Part 3: Building a model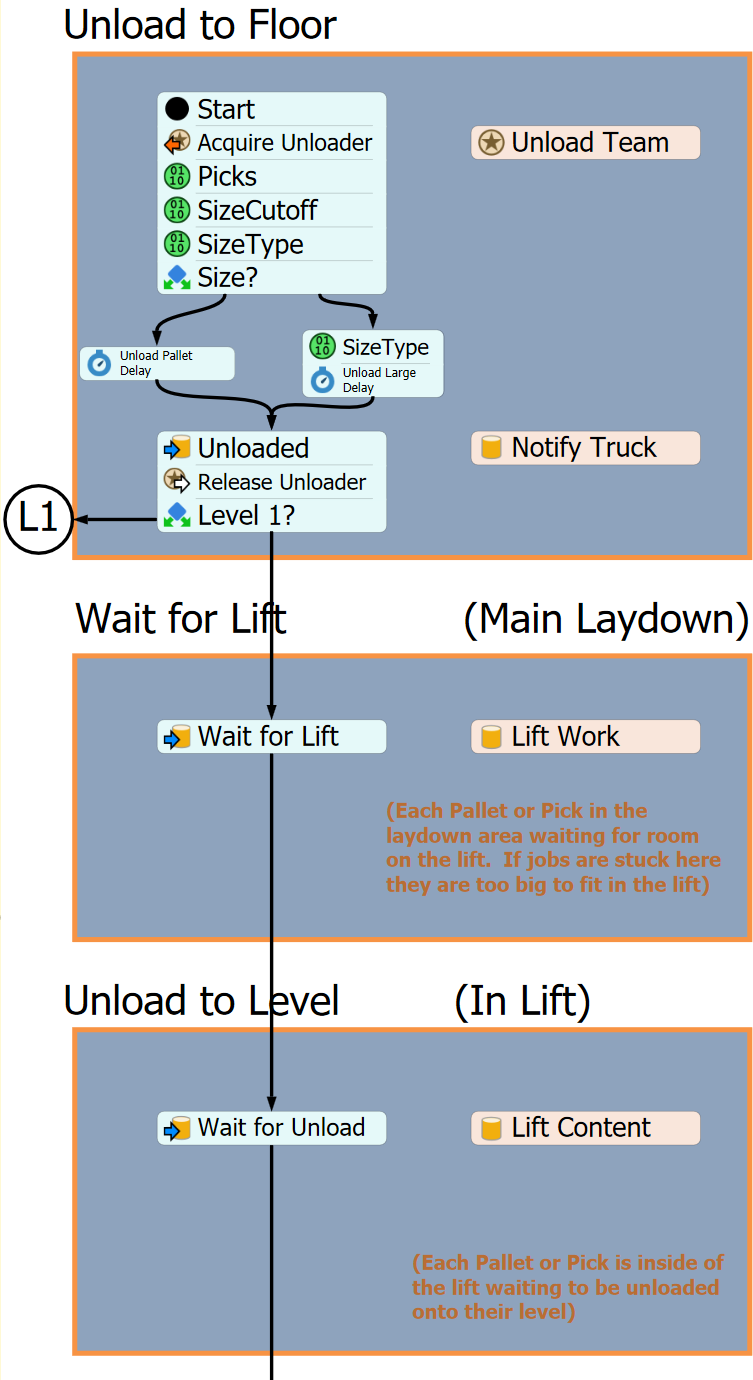 The integrator approached FlexSim to develop a simulation model of the project conditions and answer these crucial questions. The model's main objective was to tell the project's statistical story, focusing less on 3D visuals and more on simulating the logistics. Using FlexSim's logic-building tool, Process Flow, the application engineer modeled the system behaviors accurately and in much less time than it would have taken to develop a full 3D rendering of the system.
The model runs on a product database that encompasses all site deliveries. This database includes crucial information about each piece of equipment, including weight, size, the time required to pick, date of delivery, and installation date. Despite many deliveries and complex system logic, the model can process more than a year of simulated time in less than a minute. This simulation speed, combined with easily adjustable model parameters, allowed the integrator to quickly test and evaluate many what-if scenarios.
FlexSim models allow you to observe the logic visually. But for this project, an extensive dashboard (with more than 40 charts and graphs) tells the real story. This comprehensive data visualization covers trucks, lifts, vendors, laydown areas, and more. For example, a truck-dedicated dashboard shows detailed statistics on arrivals and exits each day. It also indicates TSA-controlled road availability, delays caused by the road being unavailable, and how long trucks stayed at the building. The construction lifts have multiple detailed charts covering weight and volume constraints over time, which would be difficult to determine without using a dynamic analysis method like simulation.
"How much square footage do we need in each laydown area at peak times?"
They were able to check the level laydown dashboard for quick answers to this and other crucial questions about capacity.
Part 4: Adjusting the plan
The integrator immediately observed that the current delivery schedule led to prominent peaks and valleys. There would be too many trucks backing up at the TSA-controlled gate one day and no trucks arriving for several weeks. The model gives a concise picture showing the most congested points over time, which provided valuable information as they worked to smooth the deliveries.
In the words of the client:
"Logistics challenges where material handling is asked to do something it doesn't normally do—these are far better modeled in a simulation than they are with pen and paper. This [simulation] is an insurance policy and extra confidence that the plan will work."
Simulation models are a digital proving ground for the real world. And it was almost required in this case because the logistics of this project were exceptionally complex—with inbound product deliveries for over a year and a half, plus added constraints. In the end, the integrator earned valuable, predictive data on minimizing the time trucks spent waiting to drop off and reducing congestion caused by too many deliveries at the unloading choke point.
So, where does this project stand now? After iterating on the model and smoothing the schedule, the integrator submitted a revised, evidence-based plan to vendors. They reported that the fixed schedules were accepted and welcomed by the vendors, who felt the recommendations were valid. Success!
Footnotes
1Parth, F. R. (2014). Planning and controlling megaprojects. Paper presented at PMI® Global Congress 2014—North America, Phoenix, AZ. Newtown Square, PA: Project Management Institute.
Are you working on a new facility design?
Contact FlexSim today and see how we can help you make the best decisions on the project.